Cha Park has finally uploaded the pics she took during the show and my, are they fabulous. Cha's not much into blogging so I asked her to let me make this entry in her stead. I asked her one question about this caper: what does she remember the most about it? Here are 3 things she pointed out which I'll try to recount with as little embellishment as possible: (1) How it felt like being in a pressure cooker inside the studio. You will recall that I said people were ushered into the studio til the segment preceding Cooky's appearance. Everywhere she looked around there were people. She had her back plastered to the wall, couldn't sit, couldn't move much. There were no aisles to speak of, no passage possible to the exit door. The studio was packed from wall to wall. (2) The odd mixture of people in the crowd. One would think majority would be those from classes C and D, Eat Bulaga being what it is, again, as I mentioned in my account. But Cha notes that from where she stood she could see people from classes A and B as well, and numerous celebrities besides, waiting in clear anticipation for Cooky. (3) The sheer look of joy on Cooky's face as he performed. Cha Park had seen Cooky upon his arrival in Manila - he was tired and jetlagged, possibly a bit cranky, at the same time bewildered at all the attention he was attracting and the fuss all the people around him were making. What an amazing contrast to how he now met this enthusiastic, adoring crowd who cheered him on and sang along to Always Be My Baby. Cooky was clearly, irrefutably amused.

During the performance Cha Park had quickly moved forward and stood alongside a bed of cables on the floor right in front of the stage -- the crewman who minded the equipment had tried to shoo her away but she wouldn't budge. She was able to take video but the battery conked out several seconds before the end of the song. Cooky sang, "You will linger ooooooon..." -- the battery didn't. The camera stopped recording, but Cha quickly snapped a few photos before it finally died. And so we have this. What have we been saying all this time about Cookistas and the David Cook Manila visit? We have perfect timing.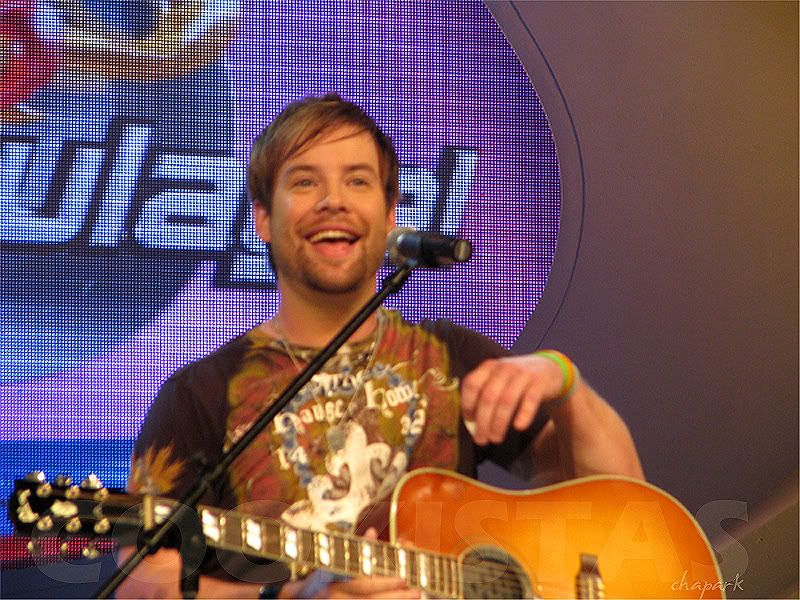 The precious few other pics can be viewed at
Cha Park's flickr gallery
. Cha is still trying to see if the video is salvageable. It looked incredible the first time we checked it (close-up!), but there seems to be a problem now with the file. If it checks out alright we will try to upload it as soon as possible.